Working as a Domino's Team Member not only offers a flexible and fun job in a friendly environment, it also opens up opportunities for long-term career development. Ninety per cent of our Store Managers started out as Team Members or Delivery Drivers, so whether you are looking to earn some extra cash or grow a career, a job at Domino's will fit the bill!
A great Team Member has a positive personality and they take pride in their work. They love working as part of a team, they can multi-task and pitch-in where needed and they love the variety in their job, whether it's making pizzas, serving customers or answering phones.
You'll have opportunities to learn and develop from the day you join us. If you've got the passion and commitment, we'll provide you with everything you will need to feel confident and do a great job.
Our benefits and rewards.
At Team Solent, we work hard to make sure we offer our team a great choice of benefits, to make Domino's a great place to work.
​Retirement may be far away, but all our colleagues can join our pension scheme, where they can decide how much they save, and we will match their contributions.
​With a whole range of Benefits & Rewards from our pension scheme to family day's out, our package has something for everyone at Domino's
Early bird or night owl, we have hours to suit you.
Interactive training starts from the moment you join us.
Competitive Pay helps to attract and retain the best.
A great chance to meet up outside of work!
We roll out the red carpet for you to say thanks.
Children's Christmas Party
Fun for the 'little ones' if they've been good!
Could you be this month's star of the store?
Progress to Store Manager in 12-18 months.
Over five weeks of paid holiday per year.
Save money with your employee discount.
The more you know, the more pins you show.
Annual pay and performance reviews.
Pay into the pension scheme and we will too.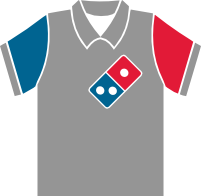 T-shirts, trousers, hats and more - all free!
"Our record pizzas made in one hour was 407!"