FREQUENTLY
ASKED QUESTIONS
Quite simply, you'll be working in a fast moving, high-energy environment where our passion for quality and delivering hot, freshly made pizza has earned us a fan base of loyal pizza lovers around the world.

Domino's Pizza is recognised as the world's leading pizza delivery company and a job with us means that you get to be yourself, make great friends, have fun, and learn heaps of new skills along the way.

You will be expected to contribute to all aspects of store operations – but you'll have a great time doing it.
Yes, it is. We will provide you with t-shirts, a hat, plain black trousers, a belt and bum bag for the drivers, a safe place to store all of your tips!
It really depends on the store and their recruitment needs at the time. We usually have a mix of full time and part-time hours available and predominantly it will be evening and weekend work, perfect to go alongside college or uni or even around another job! Just contact us if you would like to know what stores have vacancies.
There are a few different ways. You can apply on this website just go to Apply for Jobs in Cardiff or Hampshire at the top of the page and go from there, our website is very simple to use.

You can also apply in the store you are interested in. You can just pop in with a CV or alternatively, you can fill out one of our application forms when you are there.

Or lastly, you can contact us – The Recruitment Team. You can email us at recruitment@solentpizza.com with your CV along with a few extra details, for example, what store you are interested in and how many hours you are looking for. However, if you have any questions, or are unsure of anything just give us a call on 01489 799 699
We have 21 in Hampshire and 10 in Cardiff, there is probably one not far from you.
Here is a list of them all:
Hampshire: Southampton – The Avenue, Southampton – Burgess Road, Bitterne, Chandlers Ford, Cowplain, Eastleigh, Fareham, Gosport, Fratton, Portsmouth City Centre, Hedge End, Romsey, Southampton – Shirley, Southampton – Romsey Road, Stubbington, Waterlooville, Southampton – Weston, Winchester, Winchester-North, Milton, Portchester.
Cardiff: Canton, Cardiff Bay, Cathays, Cardiff City Centre, Ely, Llandaff, Maes Y Coed Road, Penarth, Pentwyn and Rumney Hill.
Instore Team Member, Delivery Drivers, Moped Delivery Drivers, Delivery Cyclists using your own bicycle, Delivery Cyclists using Domino's Branded Power Assisted Bicycles and Trainee Store Managers. Please go to view Home Page, here you will find a more detailed description of the roles and responsibilities.
Absolutely! We believe everyone should have the opportunity to progress higher if they wish.

Our internal career path is a slower process. Starting as a Driver or an Instore Team Member, allows you to learn and adapt to Domino's way of working. We want you to feel comfortable with what you do in day-to-day operations before handing you extra responsibilities. This can also be done around college or university.

Our external career path is a fast-paced career progression programme where you could be a Store Manager in just 12-18 months! You must be ready to be hands-on and learn quickly. To apply for this role, you must have management experience, but all training is provided from dough management to understanding KPI's and much more.
We do not have any company cars. If you would like to be a delivery driver with us, you must have access to your own vehicle, it must also be fully insured and taxed.

We do have company mopeds and we provide them along with all the safety gear but remember only some of our stores have them. If you need to know what stores have them, please contact us or just visit your local store.
That all depends on your age and experience. Everyone starts on a Solent starting pay rate, this can easily jump up, the more skilled you are in store and based on your tenure too. If you have worked with Team Solent for 1 year as a full-time employee, you will receive a pay increase. If you have been with Team Solent for 18 months as a part-time employee, again your pay will increase.
The minimum age requirement to work for Domino's is 16 years old and you must have completed your GCSE's.

If you are applying for a Delivery Cyclist position you must be aged 17 or above.

If you are applying for a Delivery Driver using a car or moped you need to be 18 years of age or older due to insurance policies.
We are still hiring across our stores and have put a number of precautions in place to keep our employees and our customers safe and risk-free.
1. We are now a "No Contact" delivery business.
2. No physical cash is coming through our stores; all payments are being processed online using a card only.
3. We are practising social distancing in and around our stores, using the 2-metre rule advised.
4. Masks are worn by employees
5. We have installed screens in our stores to separate workstations.
6. We are keeping our cleaning and hygiene practices within our stores to the highest standards to help maintain confidence within our customers and employees.
7. We continue to work hard and review our operations and processes daily, striving to provide a safe working environment.
Email our Recruitment Team today – recruitment@solentpizza.com.

We will be happy to help with any further questions you might have!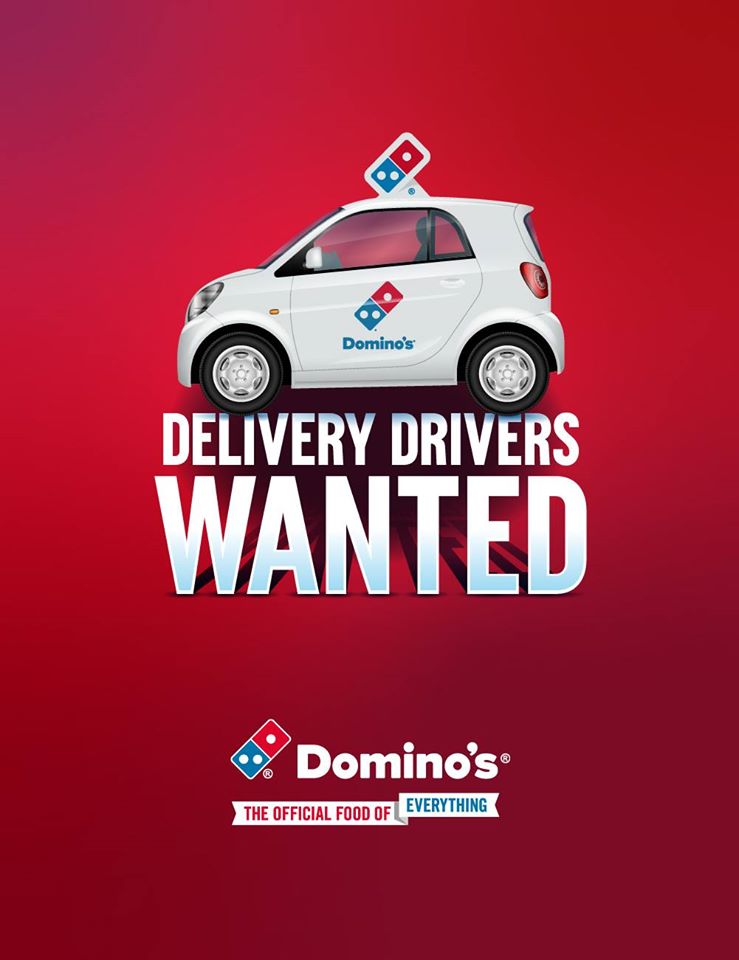 "75% of our Store Managers started as Instore Team Members and Drivers!"